Alt of
CompactorFlame
Name: Quetzalcoatl
Alias: Lucoa
Gender: Female
Age: Ancient, but sure as hell doesn't look it
Species: Reinstated dragon goddess, displaying as humanoid
Height: Never specified in the source material, assuming 6 feet
Weight: Also never specified, also, rude!
Figure: Topheavy, busty, buxom, pick one
Cup size: There's a
research paper
that says I-cup, but that's far too small!
Hair: Blonde, wavy, green and turquoise highlights
Skin: Creamy Caucasian
Eye color: Green and blue with inverted pupils
Clothing: Black, revealing tank top, no bra to go with it, jean shorts, pink cap, thigh high stockings, pink shoes
Abilities: Oh, a little of this, a little of that, all-powerful goddess keeping to herself in suburbia...
True form: Amphithere dragon with large horns, one of the largest dragons there is
No need to bow, no need to pray, no need to get on your knees in front of her. Yes, Lucoa's a goddess, yes, she's also a dragon, yes, she's incredibly powerful and you'd be wise not to tick her off, but she's a really nice girl! She doesn't wanna take over the world or anything, she's non-faction, she's keen to just live suburban life and use her power if it'll help out a friend or put some good-for-nothing punks in their place.
Lucoa's a very easygoing woman who is rarely seen without a smile on her face, or her eyes cheekily closed in the middle of a heart-to-heart. She's laid back, care-free, caring, and unlike a lot of other goddesses, she's very in tune with the customs of mortals and even partakes in neighborhood events. That said, she's not always sure why her body is often the centerpiece of conversation. She's flattered by all the complements, but she really lacks a good sense of propriety.
And then there's the other part...she's a really hungry girl! Being a dragon, she has quite an appetite to fill, and those neighborhood barbeques she often attends don't just lose their stock of food for the guests, they tend to lose a couple guests. But she makes sure people are understanding, at least she tries, they don't believe her when she says what she really is. (Even when she brings up why she at first lost her godhood after creating civilization, there was that cursed liquor, that night with her sister and...well, let's just say that ever since then, if you need a wet nurse, call her. And she'll try not to lose them inside during the process.)
In the end, she's very friendly, very outgoing, and sometimes she's just gotta eat. At least when she does that, she tends to help along ressurection in the process. Even her own body goes through that particular process. And if it's her bosom involved, well, that just makes it all the more efficient, and all the sweeter~
Since this character was created around the new year, here is her outfit from the New Years' episode of Dragon Maid!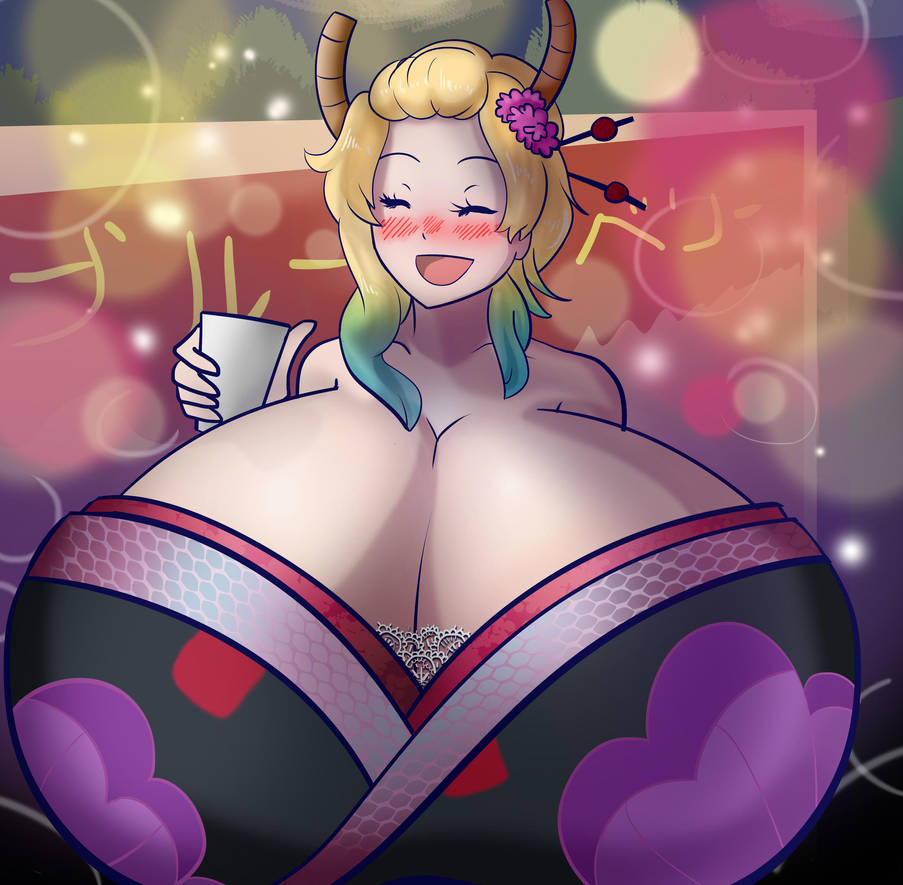 Shame on you, but here they are. (And a couple even have milk!)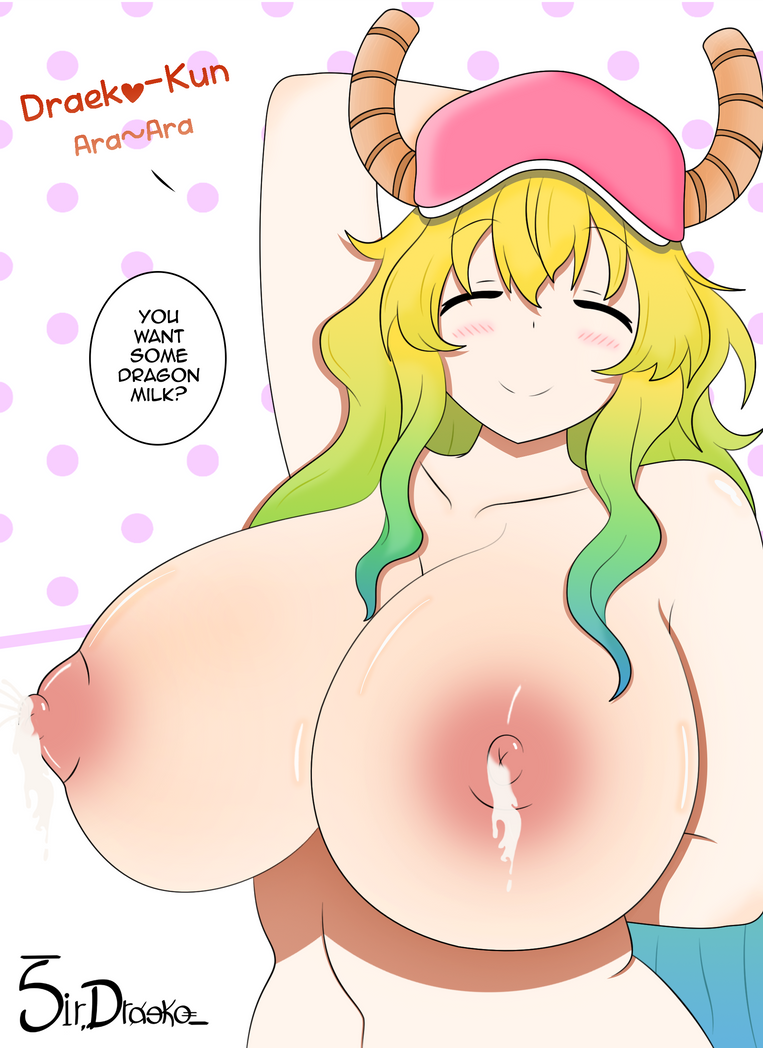 Matthew_G
helped her out with a little itch in her chest...and then again from the inside!
Angela_Cook
needed milk as an ingredient, and Lucoa needed Angela as an ingredient for her milk~
RachelBabe
decided to pick up the fellow goddess in her rack, and the rest is jiggling history
DoS
lost his camera in her cleavage, so she carried him around as he searched for it. Oh, and absorbed him for the hell of it~
Khaydarin
wanted some time as titty fat. Can't argue with that!
Gojira_
was overtaken and boobed up by a more dangerous monster!
Minny_Magicka
wanted a little milk so her friends
Krista_Ukanmuriman
and
Gaoru
were boob vored into the stuff, now Minny can swim in there!
Scaredycat10
was doomed to be tit fat the moment he bumped into her chest
Annie_Kitsune
became some milk, then returned when Lucoa used fruit to flavor it! (And her fat version,
Annie_Chonksune
, was a maid for a while!)
Riko__Saikawa
and her crush Kanna got to spend time with Lucoa at the park, but when it rained, her breasts were the only place where they could be safe, warm, dry, and in privacy together~
Maya_Wylger
and her daughter
Jinny_Wylger
met and inspected Lucoa's tits to be used for hosting a party!
Jungle_de_Ikou_Mii
reunited, and the two busty goddesses went on a public eating spree, like the good old days~
BreanneTheDog
was in an apartment she moved into, and now sleeps in her breasts as her new puppy.
Zephos
and his bakery were a wonderful snack! The baker even made for great milk to chase all the pastries down!
Kirigissi
stirred some emotions (and unfortunately an appetite) with her beautiful street music.
Mayelin_Reborn
ran her stream and had Lucoa on as a guest, who took the chat's request to boob vore and lactate out the host!
Player_Shannon
was welcomed to grope...unfortunately, the airheaded Lucoa had forgotten she was hungry then.
LucoaDragonMaid
didn't expect it, but was surprisingly open to being breast vored by another one of herself!
Princess_Koriandr
convinced Lucoa to put on a Power Girl outfit as they went on busty heroics together!
Mae_Adeline
found Lucoa when she got hungry, then helped her boobs clear the block! Long as she was saved for last~
Nott_The_Brave
accidentally kicked off Lucoa's goddess-sized appetite in a trading town. Hardly a soul was left as anything that didn't jiggle or slosh.
Tanabe
tried to interview Lucoa on being a predator. She got what she wished for!
Greed_Faux
was one of the male guests at a sorority party that shouldn't have been there, but Lucoa was invited! She was also far more dangerous.
The next party she crashed was that of
Kenzi_azur
with a similar result! Pure coincidence that there are so many of these parties.
TohruDragonmaid
asked what else her breasts could do and when she found out it involved turning people into milk...she volunteered!
Baila_Ukanmuriman
climbed into her nipple and merged into the breasts to eat a neighborhood!
SophiaTheNeko
invited her to a breast voring contest and...really should have known better! Still, she's now the woman's pet as thanks.
Samantha_Demisnack
was breastfed by her babysitting dragon...and ended up milk because she got the girls hungry!
Epith
witnessed Lucoa pulling a trick to slurp up a park full of people...and eagerly joined the crowd on the way in!